Our New Mobile Hub: Delivering Vaccinations in a Pandemic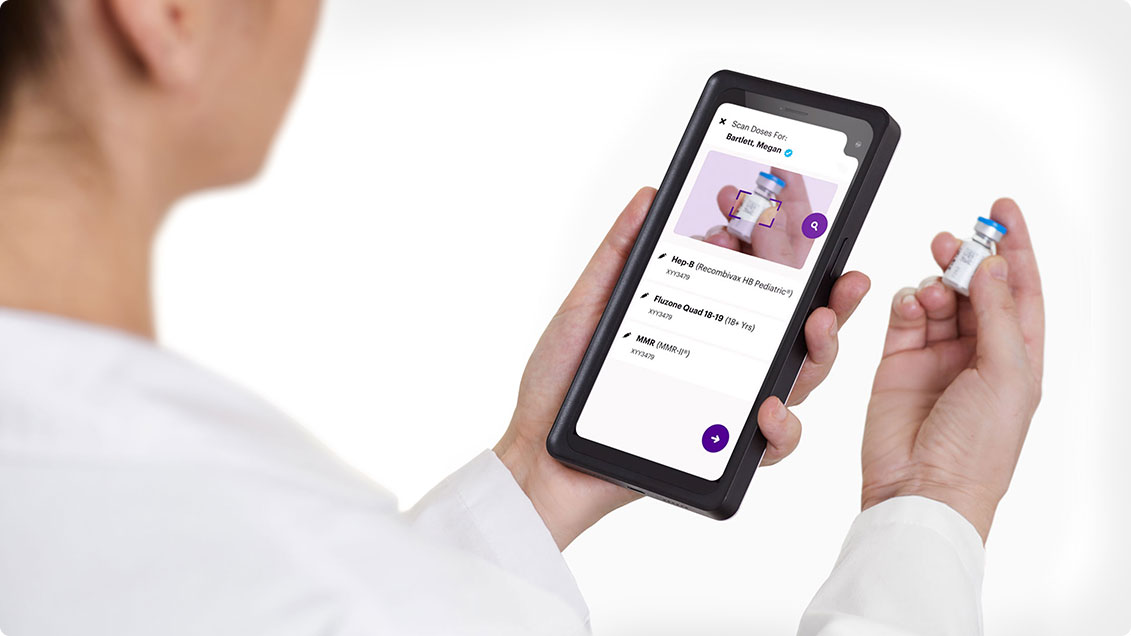 Cancelled well visits, delayed screenings, skipped vaccinations—the pandemic caused many patients to stay home instead of visiting their primary care practices for important but non-acute care visits. The long-term impact of missed preventive care appointments is yet to be seen, but in the short term it's put a huge strain on many practices' already precarious finances.

We're always looking for new ways to support our primary care partners. And so, inspired by how quickly retail stores had transitioned almost overnight to curbside pickup we wondered, could primary care practices could do the same with vaccinations? After conducting research with several of our partners we emerged with a clear moonshot goal: we would develop a mobile version of the VaxCare Hub in time for 2020 flu season vaccinations.
We focused on the two most mission-critical aspects of our program: administering vaccines to patients outside of the office, and being able to quickly enter a new patient's info if they were at a community event.
Just four months later, in September, 2020, we launched our Mobile Hub, a smartphone-sized tablet loaded with a proprietary mobile version of the VaxCare software. The hand-held Mobile Hub allows practices to take VaxCare curbside, or anywhere that meets the safety needs and comfort of their staff and community. It was an impossibly quick turnaround, but we made it through. "Our teams worked tirelessly to get the Mobile Hub to market in time for the 2020 flu season," says VaxCare's Chief Product Officer, Evan Landis. "But we didn't let the fast timeline compromise the quality of the product. In our work, we focused on the two most mission-critical aspects of our program: administering vaccines to patients outside of the office, and being able to quickly enter a new patient's info if they were at a community event."
Because the Mobile Hub is designed to be used on-the-go, it was crucial that the product be simple to use right out of the box. We were delighted to hear our partners report that the Mobile Hub is just that: the intuitive interface makes completing tasks straightforward, and the user journey—from unboxing to training to using Mobile Hub out in the world—is easy to manage. And the Mobile Hub does not require wi-fi, removing the need for an internet connection and empowering practices to vaccinate anywhere.
Pediatric & Adolescent Associates in Lexington, Kentucky was one of the Mobile Hub's early adopters and is currently using sixteen Mobile Hub devices (!) across multiple practice locations. "The Mobile Hub is very user friendly, just like using an app on a smartphone," says Martina Denny, MHA, CMPE, CPPM, CPC, practice administrator. "We've been running up to 500 flu and vaccine patients through our office a day, and we've only been able to do that because our nurses were using the Mobile Hub right in the room rather than going back and forth to the stationary unit."
One of the unique benefits of the Mobile Hub is the easy add-a-patient feature that allows pediatricians to give the flu vaccine to parents as well as their children, saving both time and potential COVID-19 exposure. This is especially important since adults 18-49 are much less likely to get the flu vaccine for themselves than they are for their kids: 26% vs. 68% (for kids six months to four years).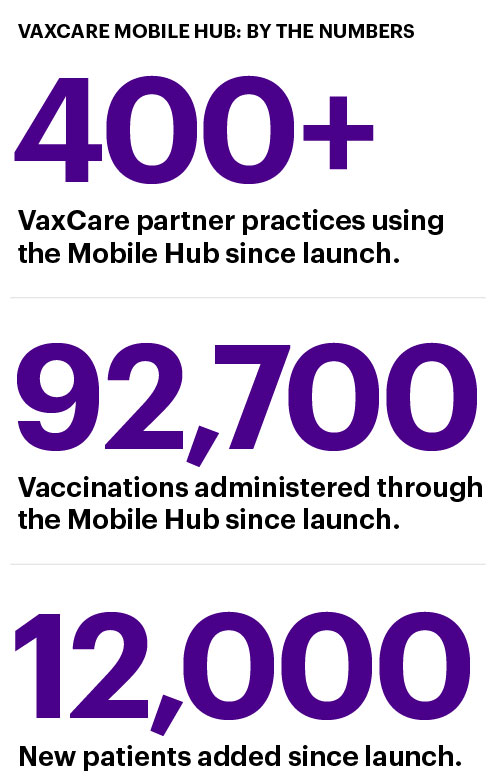 Having the ability to give vaccines to parents is also good for a practice's bottom line: Lexington Pediatric & Adolescent Associates' immunization rates September-December 2020 increased by 54% over the same time period the previous year. "Parents had asked us for years to let them get their flu vaccines at the same time as their kids, but we just weren't set up to do that," says Denny. "But with the Mobile Hub it was so easy to do, and it has helped us make up some of the revenue we've lost when COVID-19 hit and our patient encounter numbers dropped."
We've made the Mobile Hub available free of charge to our entire customer base, as well as nonprofit organizations committed to improving immunization rates, like the Indiana Immunization Coalition (IIC). IIC is traditionally an immunization education and advocacy organization, but with flu season hitting in the middle of the pandemic, they decided to administer vaccines to those in need in their state. It didn't take long for the requests to start flooding in. "We had no idea how much our team would be in demand, but in the first week we had about 60 requests from schools, homeless shelters, free clinics, and soup kitchens all over the state," says Lisa Robertson, IIC's executive director. "And that means we're in the car and on the road for days at a time. Without the Mobile Hub, we just wouldn't have been able to do it." In October, 2020 alone, IIC administered over 2,800 vaccine doses.
As of the first week in January 2021, the Mobile Hub's launch, more than 400 of our partner practices have administered 71,700 flu vaccine doses to their patients, given 21,000 additional immunization doses, and used the Mobile Hub to add nearly 12,000 new patients. "While our stationary VaxCare Hub will continue to be the primary method of managing a vaccine program for most of our partners," says Landis, "we're excited that the Mobile Hub gives practices the flexibility they need to adapt to whatever the pandemic—or otherwise—throws at them."
EBOOK
Learn more about what's ahead for vaccines in 2021.
For more information on COVID-19 and other important vaccine updates, as well as tips and tools to prepare your practice for a year like no other, download our new ebook.
Download Ebook