COVID-19 Coding: Your Questions Answered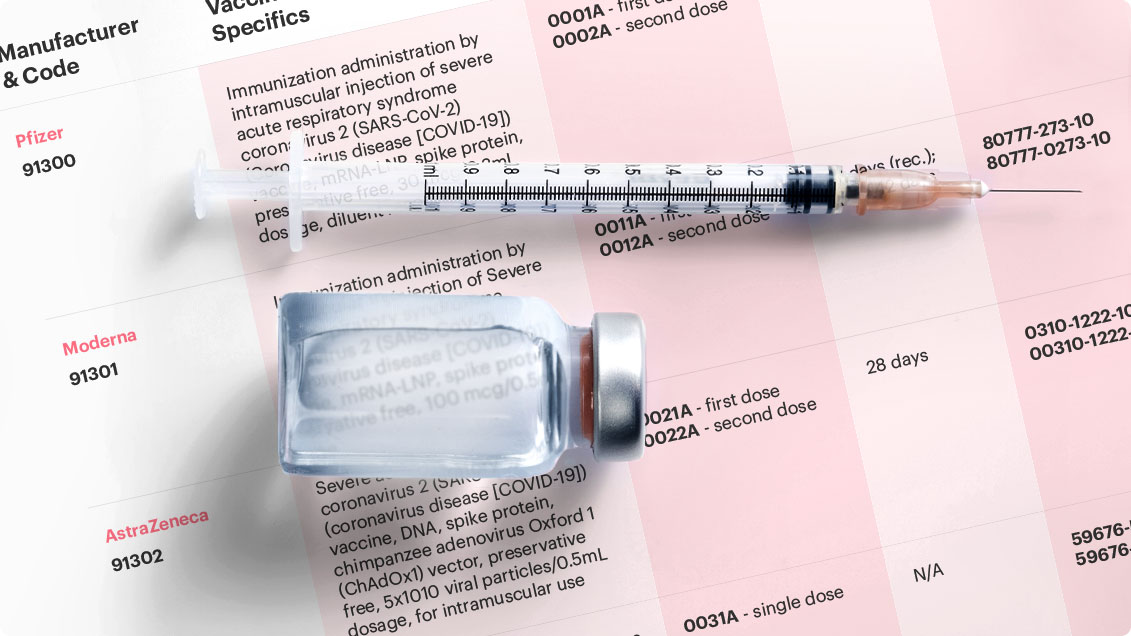 When the first COVID-19 vaccines were approved for emergency use by the Food and Drug Administration, it brought hope for the country and a slew of questions for patients and healthcare providers. As a service to our practice community, we've pulled together some information that can help your office get ahead of the curve when it comes to the COVID-19 vaccine.
Note that while the COVID-19 vaccine presents a lot of variables and challenges to administering, it also presents an opportunity for important personal connection during this difficult time. As healthcare professionals, you are in a unique position to offer reassurance, information, and a public health service to the community.
Now, let's get to your questions.
Can my office be reimbursed for COVID-19 vaccine administration?
Yes. As part of the public health emergency phase, the federal government has made COVID-19 vaccines free of charge to the public while allowing practices to bill for administration of the doses.
Your office will be able to bill a fee for the administration of each dose of the vaccine that will be paid by the patient's private insurance, their public insurance, or by a Provider Relief Fund that has been set up for uninsured patients.
Reimbursement rates do differ, with the second dose set higher than the first dose, a strategy that was set in place to encourage completion of both doses of the vaccine.
How do I code for the administration of the COVID-19 vaccines?
Distinct codes have been provided for each vaccine manufacturer and for each dose. Unique coding of both vaccine and dose was set up to allow detailed tracking and reporting on the vaccine rollout as well as the efficacy of each particular vaccine by the AMA. As with any new vaccines or administration codes, best practice is to review your payer contracts to ensure additional work is not required to add these CPT codes to your fee schedules.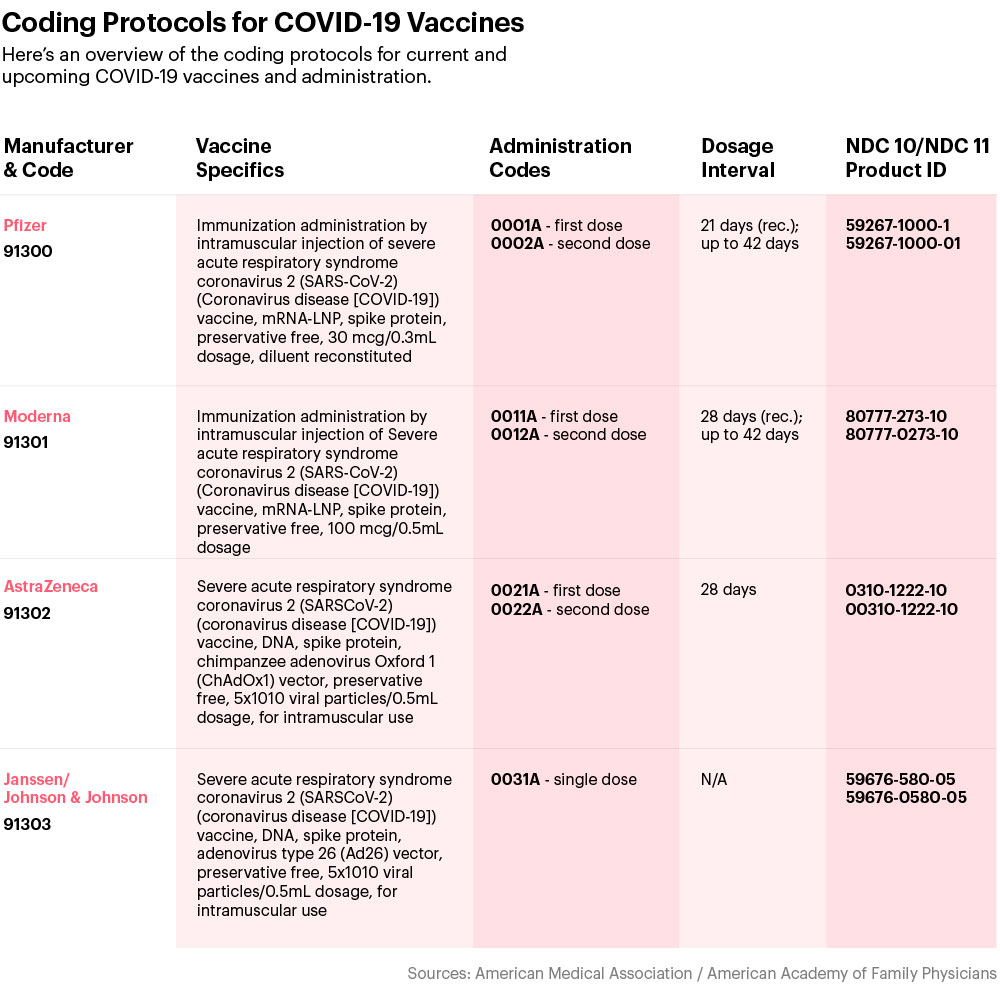 How do I store the COVID-19 vaccines?
Not all vaccines have the same storage requirements, so it's important to make sure you understand the storage needs for each vaccine and how they relate to your office.
Pfizer-BioNTech COVID-19 Vaccine
Once a POU (point of use) receives a thermal shipper with our vaccine, they have three options for storage:
Ultra-low-temperature freezers, which are commercially available and can extend shelf life for up to six months.
The Pfizer thermal shippers, in which doses will arrive, that can be used as temporary storage units by refilling with dry ice every five days for up to 30 days of storage.
Refrigeration units that are commonly available in hospitals. The vaccine can be stored for five days at refrigerated 2-8°C conditions.
After storage for up to 30 days in the Pfizer thermal shipper, vaccination centers can transfer the vials to 2-8°C storage conditions for an additional five days, for a total of up to 35 days. Once thawed and stored under 2-8°C conditions, the vials cannot be re-frozen or stored under frozen conditions.
These notes were pulled directly from the Pfizer-BioNTech fact sheet. For more details and information on storing the Pfizer-BiOnTech vaccine, see their COVID-19 Vaccine U.S. Distribution Fact Sheet.
Moderna COVID-19 Vaccine
Moderna's COVID-19 vaccine will arrive frozen at temperatures between -25°C and -15°C (-13°F and 5°F). They can remain frozen until their expiration date.
After vaccines are thawed in preparation for use, they can then be stored at the following times at the following temperatures:
30 days: refrigerated @ 2º-8ºC (36º – 46º F)
12 hours: cool storage – room temperature @ 8º – 25ºC (46º – 77ºF)
Thawed vials of vaccine cannot be refrozen.
For more details and information on storing the Moderna vaccine, see their Storage & Handling Guide.
JNJ-78436735 COVID-19 Vaccine (Not yet approved)
The COVID-19 vaccine from Johnson & Johnson differs from the Moderna and Pfizer vaccines in one key way that impacts storage. Where both Moderna and Pfizer have based their vaccines on mRNA technology, the JNJ vaccine is based on double-stranded DNA technology (similar to the Ebola vaccine approved in July 2020). The DNA is delivered inside a modified adenovirus, and these two elements together make it a more "rugged" vaccine than the mRNA-based Pfizer and Moderna vaccines. As such, the refrigeration requirements are not as demanding. If it is released, the vaccine:
Can be stored up to three months in a traditional freezer at 2°C – 8°C (36°F – 46°F)
Is administered in a single dose
For more details and information on storing the Johnson & Johnson vaccine, see their recent news article on its release.
Need help managing your COVID-19 vaccinations?
Our COVID-19 Assist program can help you manage, track, and bill for immunizations you administer, easing the burden on your practice and giving you a better view into your patient's COVID-19 immunization stats. Tools such as our Mobile Hub and Event Registration App can also bring greater flexibility and ease to vaccinating your community. Get in touch to learn more!
INTRODUCING VAXCARE
Simplify your vaccine program.
VaxCare eliminates vaccine purchasing, manual work, and financial risk while providing visibility into every step of the process. Just vaccinate your patients, we'll take care of the rest.
Learn More
---
Published: February 1, 2021, 8:10pm